Organic Ceylon 'True' Cinnamon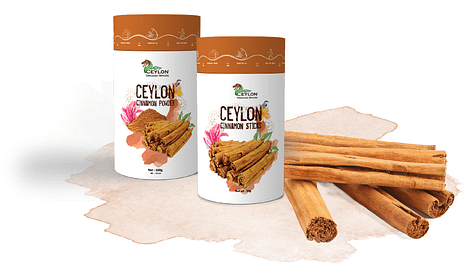 Organic Ceylon cinnamon, native only to Sri Lanka, this "Queen of all spices" has a great fragrance, a unique deep flavor with a touch of sweetness, and enhances the flavor & quality of any food. With the confusion on Cassia, Ceylon cinnamon is aptly coined as "true cinnamon" (Cinnamomumzeylanicum).
Ceylon Cinnamon is a splendid addition to delicacies both sweet and savory, Ceylon Cinnamon has also played a pivotal role in aromatherapy and perfumery, rest assured. Due to appearance, similarities and unfamiliarity the Ceylon Cinnamon is commonly confused with Cassia, which does no justice to the distinctive aroma of what Ceylon cinnamon exudes and is also harmful. True Ceylon Cinnamon and Cassia have a distinct difference not only in taste but also in their health benefits. While True Ceylon Cinnamon contains approximately only 0.004% Coumarin, the Cassia contains approximately 1%, which makes the Cassia highly toxic if, consumed in large quantities regularly.
Ceylon Organic Spices Cinnamon comes in different grades and lengths, our retail package of Ceylon Cinnamon Sticks contains the best C5 quality, and also available is the best Grade 1 Ceylon Cinnamon Powder. Our other available grades/ quality includes Cinnamon Alba, Cinnamon sticks C5 special cuts, Cinnamon sticks M4 and M5, Cinnamon sticks C4 and C5, Mixed quills and cinnamon chips.
Branded ready to use retail packs are available, contact us if you have any requirements for True Ceylon Cinnamon in retail branded or for bulk packaging as we are suppliers from certified organic farmers, halal, USDA, EU, and Vegan certified.
All Ceylon Organic spices facilities are BRC, ISO22000, GMP, and HACCP certified.
Difference between Cinnamon and Cassia include –
Appearance-  Ceylon Cinnamon is golden and smooth when touched, is not hollow inside and has quills folded inside. while Cassia is more reddish and has a rougher single roll appearance.
Taste- Organic Ceylon Cinnamon is sweeter at first then has a slight spicy touch while Cassia has a bitter touch.
The difference that is really worth considering, is the presence of coumarin, a compound that is dangerously higher in Cassia that can result in Liver, Kidney damages and is extremely carcinogenic. Select the healthier option for you and our family by picking the True Ceylon Cinnamon from Ceylon Organic Spices.
Start your day adding Organic Ceylon Cinnamon on your breakfast and create a sweat, aromatic taste and meanwhile lower you blood sugar levels, help burn fat and be prevented by heart diseases and you can enjoy our Organic Cinnamon sticks or powder on your tea throughout your day, especially during cold days.
Organic Ceylon Cinnamon is used in various traditional cooking, in skin and hair masks, in numerous desserts and in cooking. Contact us if you wish to purchase in bulk or wholesale