Organic Black Pepper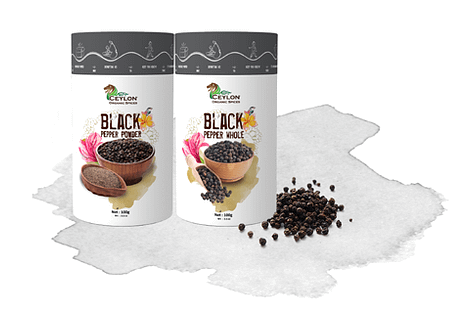 Organic Black Pepper (Piper nigrum) is known for its strong rich aroma, unique taste, consistency, and its natural goodness. If it's a little spice for your food its always best to used black pepper pods or powder from Ceylon organic spices. black pepper is a much better option that bell peppers or chilies, or any other sort of spice enhancement. Harvested from pepper vines, the tiny fruits are picked and dried to yield the spices in black or white spherical peppercorn forms, the dried yield is sorted to sizes and packed accordingly to regional and customer needs.
Black pepper from Ceylon organic spices are high in antioxidants, has anti-inflammatory properties, Benefits your brain, help fight cancer, Improves blood sugar control, Lower cholesterol and many more health benefits. It is a versatile spice and helps to combat many diseases, and black pepper helps prevent many bacterial and viral infections, by improving digestion and stimulates the taste buds.
Black pepper of Ceylon origin, Sri Lanka is a favorite spice among chefs as it's known as the 'king of spices'. It's not easily grown but its rewards are greater, mostly used for culinary purposes and now famously used also for medicinal properties. It's also used in traditional practices of healing and studies reveal many health benefits. Prized for their aroma and spicy flavor, peppercorns are a staple spice in many kitchens. Pepper on cooking is common, but now black pepper pods and powder is used for desserts and drinks. New research and studies have shown users using natural chemical free black pepper on the skin directly as they have properties that provide a natural glow for the skin, help fight acne and remove skin toxins.
Mixing the black pepper in drinks, smoothies and porridges help the gut in clearing and cleansing. Not only does it add a spicy flavor, it is a great addition to warm beverages such as chai tea, freshly cut fruits, and veggies and other culinary uses
Organic Spices are manufactures of chemical and pesticide-free organic Ceylon origin black pepper pods (GL count 480, GL 500, GL 520, GL 530, GL 550, GL 580) and best black pepper pod powder (Grade A) in retail and bulk from certified organic farmers, halal, USDA, EU and Vegan certified. We are BRC, ISO22000, GMP, and HACCP certified.
We at Ceylon Organic Spices consistently train farmers on integrated farming methods and intercropping. We wish o uplift our farmer's livelihoods and have the best intention of protecting the environment. Contact us if you wish to purchase in bulk or wholesale.