Organic Mace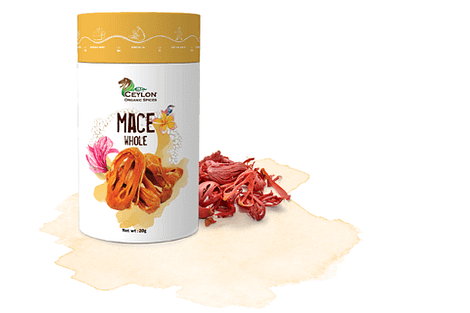 Organic Mace (Myristicafragans) cocoons the nutmeg stone within its outer shell. This is very common amongst culinary artists for its properties that are similar to, yet milder than Nutmeg. Mace is actually the lacy coating (called the aril) that is found on a nutmeg seed. This red lacy aril is removed by hand from the outer shell of the nutmeg and then dried and the whole Mace is carefully removed and packed in retail packages, for branded retail packages please view our Mace.
Mace is a very famous and well-used ingredient in Asian cuisines, a main component for the famous Indian biryani is the Mace, and most renowned chefs and cooks recommend mace from Ceylon hence has made Ceylon organic spices one of the main suppliers of organic mace. Mace and Nutmeg originate from the same fruit but has different properties on its appearance, texture, and taste.
Mace is loaded with health benefits thus is traditional medicine in the pantry. Our mace at Ceylon Organic spices only makes it a rewarding experience for your health.
Add some Ceylon Organic Spices Mace to your diet and be amazed at how this spice can change your eating habits for the better. Mace will help you eat well, thus keeping you healthy, robust and will keep your skin & hair healthy. It also improves your immune system and protects you from infections as it has the ability to boost your blood circulation.
Ceylon Organic Spices Mace is an excellent addition to dishes that gives a flavor to root vegetables, cream soups, and baked goods. The flavor comes with an abundance of health benefits such as protecting the kidneys, boost blood circulation, contain anti-inflammatory properties and helps dental health.
Mace is a unique-flavored spice often used to make the Biriyani Spice Masala! The spice mix also includes cinnamon, turmeric, and cloves, which is all available at Ceylon Organic Spices and not only restricted to main Asian cuisines, the mace is now used in the baking of cookies, add some spice that's tasty yet healthy to your cookies by adding some Ceylon Organic Spices Mace, as its an excellent addition to cookies that results in a premium taste.
Ceylon Organic Spices are manufactures of chemical and pesticide-free organic Ceylon origin Mace whole or powder in retail and bulk from certified organic farmers, halal, USDA, EU and Vegan certified. We are BRC, ISO22000, GMP, HACCP certified and consistently train farmers on integrated farming methods and intercropping. We wish to uplift our farmer's livelihoods with the best intention of protecting the environment. Contact us if you wish to purchase in bulk or wholesale.