Organic Turmeric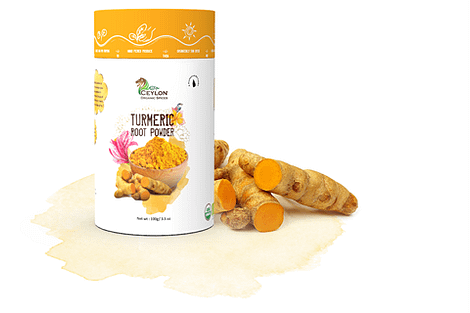 Organic Turmeric Powder or Curcuma longa, the golden-yellow spice that works wonders on curries also exhibits exemplary medicinal properties. The active ingredient, Curcumin in turmeric powder and stick has been highly studied as a potential drug for Alzheimer's disease and Arthritis and has shown very positive responses that are being studied on further.
Turmeric powder is one of the best natural immune system boosters which can increase the immune-modulating capacity of the body, It is also rich in antioxidants, turmeric is an excellent addition to the daily diet as well as being utilized for its anti-microbial properties. Ceylon Turmeric powder is best mixed with organic Black pepper as the "piperine" in pepper promotes good absorption of the Curcumin compound to the body.
Turmeric powder has many quick uses, if you're burnt out and looking for a natural and healthy energy boost, then Golden milk is the quickest, made from turmeric, it is a wonderful alternative to tea or coffee. Often drunk in the morning hours and when the weather is chilly, it helps keep the body warm and energized. Add a spoon of Ceylon Organic Spices Turmeric Powder to your preferred milk and b energized for most hours of the day.
Turmeric powder is known as one of the healthiest ingredients on the planet and can be used as an anti-inflammatory agent. Try our organic Turmeric powder in your food, and it will not only look good, but it is flavorful and healthy with a wonderfully creamy and vibrant texture. It will be perfect on your salads and to uplift the taste even further.
Organic Turmeric has strong antibacterial properties that help boost the immune system and a simple way to quickly use is by adding some organic nutmeg powder from Ceylon organic spices on warm milk with a few drops of honey and crushed cardamom and it is sure to keep your respiratory track well prepared for the cold weather/ winter.
Ceylon Organic Spices are manufactures of chemical and pesticide-free organic Ceylon origin Turmeric in retail and bulk from certified organic farmers, halal, USDA, EU and Vegan certified. We are BRC, ISO22000, GMP, HACCP certified and consistently train farmers on integrated farming methods and intercropping. We wish to uplift our farmer's livelihoods with the best intention of protecting the environment. Contact us if you wish to purchase in bulk or wholesale.