Organic White Pepper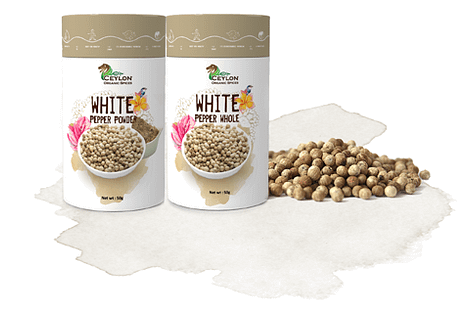 Organic White Pepper (Piper nigrum) is known for its strong rich aroma, unique spicier taste, consistency and its natural goodness. A stronger spice than organic black pepper, organic white pepper is harvested from organic Non GMO pepper vines in Sri Lanka, the fully grown fruits are plucked when it's the right color and size and packed accordingly to regional and customer needs.
White Pepper is a rich source of minerals such as magnesium, copper, and manganese, which help in boosting bone strength. This simple spice helps grow and maintain healthy bones when aging. White pepper has very few calories & adds a lot of flavor to a dish. The difference in flavor between white and black pepper relates to how they are processed where the taste is held back in the fruit without being dried. Black pepper can be added while cooking or after but White pepper can only be added after the dish has been cooked to get the maximum aroma and taste. However organic black and white pepper are categorized to be the best seasonings for a variety of dishes and international cuisines and are well recommended by professional chefs and even amateur cooks who specialize in the art of using white pepper in dishes.
For those who don't want their food looking red and spicy, white pepper is the secret spice that can stay hidden yet give a surprising spice when consumed. If it's a little spice for your food its always best to used organic white pepper pods or powder from Ceylon organic spices.
White pepper, (piper nigrum) is quite different from the black version; even though its produced from the same plant, the way they are processed is different. And it has a unique taste, where it contributes to form an atmosphere that imparts a floral, earthy aroma to the food it is added to.
White pepper from Ceylon organic spices are high in antioxidants, has anti-inflammatory properties, Benefits your brain, help fight cancer, Improves blood sugar control, Lower cholesterol and many more health benefits. It is a versatile spice and helps to combat many diseases, and white pepper helps prevent many bacterial and viral infections, by improving digestion and stimulates the taste buds.
Ceylon Organic Spices are manufactures of chemical and pesticide-free organic Ceylon origin white pepper pods (GL count 480, GL 500, GL 520, GL 530, GL 550, GL 580) and best white pepper pod powder (Grade A) from certified organic farmers, halal, USDA, EU and Vegan certified. We are BRC, ISO22000, GMP, and HACCP certified. Contact us if you wish to purchase in bulk or wholesale.